last updated 09/25/10
Here's where I give you a little background information. You know, the part where everyone says not to tell too much or strange people will come to your house and kill you in your sleep…
My name is Stacey and I grew up in a little place called Bentley Creek PA. The USPS doesn't even recognize it, the closest thing on a map would be Gillett. For those of you who don't know, Bentley Creek is just outside of Elmira NY. What?!? You don't know where Elmira is either? Well, it's all located along the PA/NY border in the middle of nowhere. Just trust me on this, you're not missing much. We've left for years at a time only to go back and nothing has changed. I lived there for 18 years with my parents, brother Matt (5 yrs younger) and sister Christine (7 yrs younger). And countless animals. Always seemed to be
a critter of some sort around. I graduated in 1996 from Athens Area High School.
At the end of my junior year of high school, I met Mike on a blind date. He attended Notre Dame High School in Elmira and was a year ahead of me. When I started my senior year, he left for the University of Miami. He proposed the summer I graduated.
After high school, I left for college like most people do. I ended up at Niagara University as a Computer and Information Sciences major. Contact me if you'd like my thoughts on Niagara.

Mike also ended up at Niagara and on August 8, 1998, we were married. We have some of our wedding album and information online, so check it out.
Mike graduated from Niagara in May of 1999 and converted his internship into a full-time position at a regional bank in Buffalo. As soon as I graduated in May of 2000, we moved to Raleigh, NC where the jobs and life in general are better. I initially worked for a big telecom for about nine months as a contractor but was laid off in June of 2001. At first I was upset, then I remembered that I hated that job so I did my happy dance instead. Mike's first position, the one that brought us to Raleigh, was at a wireless technology company. Soon after starting there, he was able to pick up several contract projects on the side which ultimately developed into a a part-time consulting business for us. In April of 2003, he moved on to a opportunity at Duke University and really enjoyed working in the University environment. While there, he completed Duke's Weekend Executive MBA, graduating in November of 2007. After graduation, he started a new position at Lenovo and has been putting his new skills to the test there since January of 2008.
I currently work for the Town of Apex as their webmaster. Apex is a town southwest of Raleigh. We have over 35,000 citizens and 300 employees. In addition to overseeing all aspects of their website (which I've completely redesigned twice), I also implemented an entire intranet site for employees. The project I was hired to do (e-government) has gotten slashed out of the budget multiple times since I started and has now reappeared on the horizon.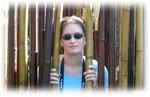 In the non-work world, Mike and I bought our first house in July of 2002. Renting was getting old for a lot of reasons so we decided it was time to put down some roots. The entire process from pre-approval of the mortgage to moving day took us just over a month. Not bad!
Somewhere along the line (more specifically, in Buffalo, May 2000), I acquired one spoiled little kitten named Tasha as a 'going away' present. She moved to Raleigh with us and keeps the home life interesting. After we fenced our yard, we keep promising to get her a doggy! However, before that happened, Mike fell in love with a shelter-cat he saw at the local PetSmart and in January of 2005 we added Ripley to the family.
For fun, I'm very interested in writing and music. I'm also a big fan of hockey (go 'Canes!) and in the summer we go to the beach as often as possible. Running, biking, and photography are other hobbies I dabble at here and there.
Currently, I'm working on a graduate certificate in marketing from UC Berkeley Extension (online). It's taking up a lot of my time but I'm really loving it despite the amount of work.
Be sure to check back. As life continues on, I'll probably have reason to update! In the meantime, just keep up with my blog for the daily stuff!